Everybody has his/her own challenge to overcome, goal to succeed, or mountain to climb. Some of us take this target very seriously and actually find that mountain. For me, climbing the highest peak of Europe was a long-standing dream; only later I found out that the highest mountain in Europe is actually Elbrus and Mont Blanc is only the highest mountain in the European Union or the Alps. Shame on me, but afterward I've started to do my research better!
So, here is how the story goes. A few years ago, I heard something about this tour, about this mountain, Mont Blanc, and said to myself: if others did it, I can also do it!
Being a bit naive at that time and having no idea what climbing an almost 5000-meter-high mountain means, I just said to myself: OK, let's do it!
One year later, I started to read some stories about Mont Blanc, the White Mountain. Some hikers described the tour very briefly, almost as if it was easy. Others gave so much technical information on the trail that you would think you had to build it, not hike along with it.
Eventually, I put together all the pieces of information that I had gathered, met some other mountain enthusiasts and decided to give it a shot. At that time, I guess God wanted to protect us: in fact, COVID-19 halted our journey since France was added to the list of high-infection-risk countries two days before our departure. The result: we had to postpone the hike.
After one year of waiting, last April I discussed with my friend Dado the possibility of attempting this tour again, and his answer was 100% definitely yes.
Having made up our minds, we started planning our tour and decided to go along the "Royal Route"("Voie Royale"): we would start from Les Houches (at 1000 meters of altitude), go through Nid d'Aigle, Tête Rousse, Goûter, Vallot and finally reach Mont Blanc.
Even if this route is considered the most accessible one leading to the peak, still 75% of all accidents happen here. Since 2019, whoever wants to climb Mont Blanc along this route has to reserve at least one night at one of these two huts: Refuge de Tête Rousse or Refuge du Goûter.
The season starts in May and ends in October, but just a few days after these huts open to the public all the spots are already taken. Here's a tip: if you don't have anything booked, check the website constantly and you will notice that every now and then some free places appear. In this case, if you want to climb the White Mountain you must decide and act very quickly.
The best months for this tour are July and August because it is more pleasant to hike when temperatures are higher and a lot of snow has already melted. For us the period that we chose, that is, the beginning of August turned out perfect.
Having agreed on the path, we started to prepare for the tour and booked two spots for one night at each hut: one night at Refuge de Tête Rousse and one night at Refuge de Goûter. Eventually, bad weather forced us to spend one extra night at Refuge de Goûter, so being flexible always pays off.
At both huts, the personnel keeps everything very clean despite the lack of a water supply, as if they could do some kind of magic and somehow manage to trade snow for water. However, for a peaceful sleep it is mandatory to use earplugs because in the huts it is only possible to sleep in dormitories together with many other people.
According to the people who have eaten there, the food is good and one can get both breakfast and dinner. The breakfast costs around 15 € and dinner around 35 €; the personnel always makes sure that the food is enough for you and brings more if asked.
Since I am vegan, my experience told me to pay extra attention to food preparation, so I ended up buying lots of cereal bars and having more than 40 of them with me. Up there I could also eat a vegetable soup, and rice and vegetables.
When the long-awaited day came, we left Munich around 6 AM, left Germany, drove through Austria and Switzerland, and reached Les Houches in France at 2 PM. We managed to park our car free of charge at the Prarion lift parking lot: we were very lucky because the other parking lots were full although a fee was needed.
As it was the beginning of August, the sunshine was extremely strong and the temperature was around 25 °C. When I had packed, I had only thought of the snow of Mont Blanc and I had totally forgotten that it was summer down there.
Having no shorts to hike in, I adapted quickly and used a pair of pants I had brought for sleeping. After all, I didn't care how I looked and even if someone had said something about it, it would have been impossible for us to understand – the only French words we knew were Pizza, Coca-Cola and Mont Blanc of course!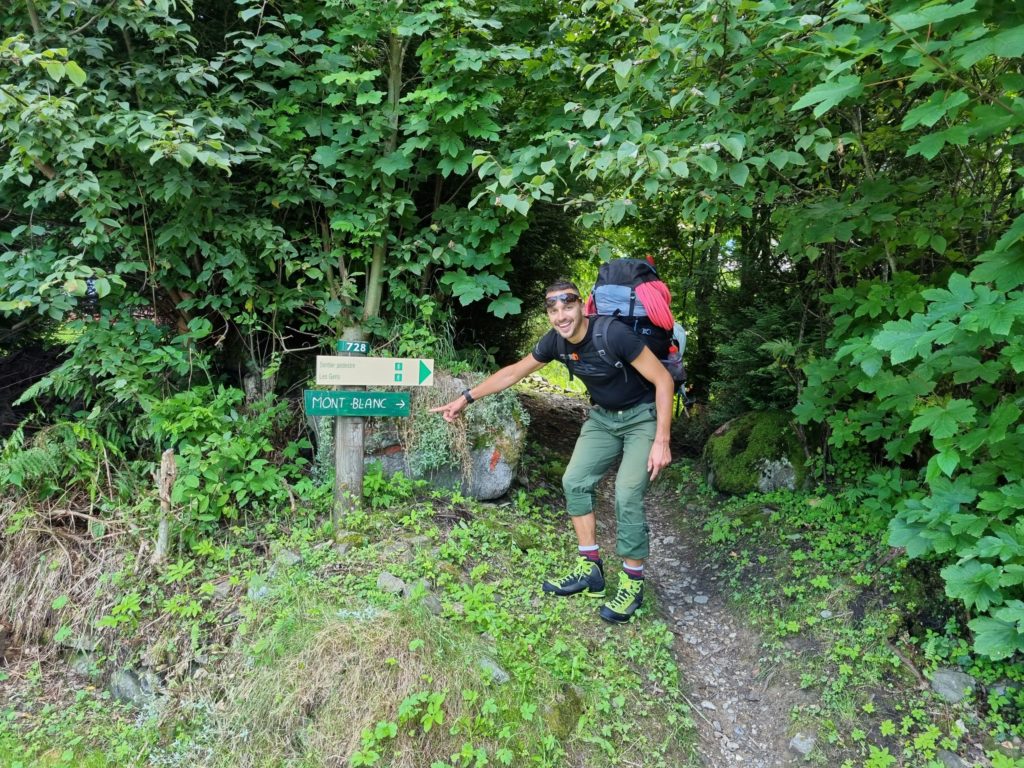 I had totally forgotten that temperature decreases by 10 °C every 1000 meters of altitude: if in Les Houches, at an altitude of 1000 m, the temperature was 25 °C, on top of Mont Blanc (4810 m) it would have been −15 °C.
At 3 PM, after eating a bite and arranging our stuff in the backpacks, we left in high spirits with only one destination in mind: the big White Mountain. Since we had arrived quite early from Munich and the weather was more than perfect, we decided to do the whole hike on foot, that is, we climbed around 2200 meters of altitude, from Les Houches (1000 m) till Refuge de Tête Rousse (3167 m). We had quite good timing and our plan was to reach the Tête Rousse hut at 8 PM latest.
The other option would have been to take the cable car to Bellevue (1794 m) and from there take the Mont Blanc Tramway till Nid d'Aigle (2380 m). The price for the cable car is around 16.5 € and for the tramway around 35 €.
At the beginning of our hike everything was fine, but after a while our rucksacks started to give us many reasons in favour of taking the cable car – at least 15 of them, one for each kilogram in each of our rucksacks. Unfortunately it was too late to change our minds and after a few kilometres we stopped complaining and focused only on the route.
We reached the end station of the tramway after two hours and decided to take a small break. Oddly, we noticed that among more than 50 people that were waiting there we were the only two without a mask. This meant that we were the only two hikers that came from the valley on foot. We wanted to comply with the French regulations so we put a mask on too.
At that moment I also received a very precious gift. At the start of the hike, we had decided that each of us would carry the securing rope for half of the route – Dado for the first half and I for the other half –; therefore, as we had reached more or less the middle point, my friend passed this important task to me. In normal conditions there wouldn't have been any problem, but after waking up at 5 AM, driving from Munich to France and climbing 1100 meters of altitude, this 3-kilogram gift was not the most enjoyable! But I knew that this was a team effort and I contributed with my sweat to our success!
A few meters away we were stopped by the White Police; no, they are not called so because they wear white but because they look out for the safety of the hikers on the White Mountain. They check Mont Blanc hikers for their hut reservations because of a lot of accidents in the past. Many people have tried to reach the summit in one day and have remained stuck on the mountain, and either had to be rescued or died there. Through this extra safety measure the local managements ensures that the hikers are going to stop and rest a bit while attempting the summit. Since we had our booking documents printed, the check didn't take long.
After a few hundred meters, we left behind the first hut, Refuge du Nid d'Aigle (2412 m), the touristic one, and we suddenly noticed that we were the only ones on the path – almost all tourists had disappeared. Along with the tourists, the green scenery also vanished. From that point on we started to encounter rocks of different kinds and of course mountain goats.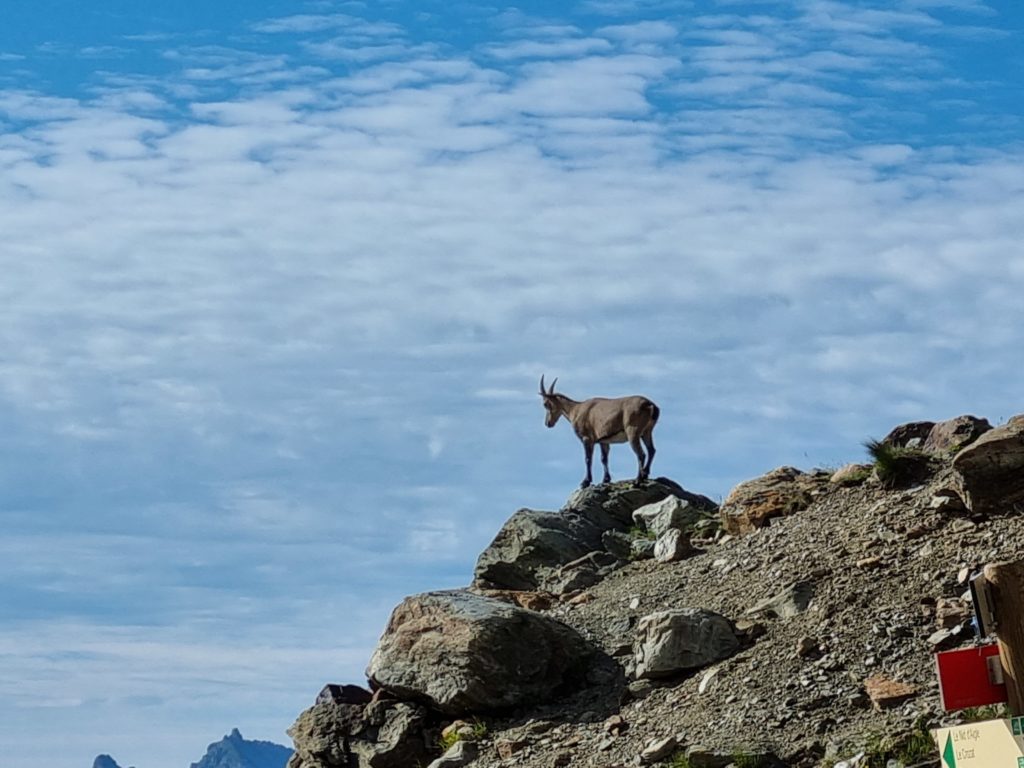 Later on, noticing our much heavier breathing and the increasing wind, we started to have more breaks. Eventually, around 8 PM, we reached the second hut: Refuge du Tête Rousse (3187 m).
It had been a long day: waking up at 5 AM, leaving from Munich at 6 AM, reaching France and climbing up for 2200 meters. At that point, all we wanted was some food and some rest. Warm showers, double-hand massages and king-size beds with perfectly white sheets were also on our wish lists, but Santa Claus was nowhere to be found!
After taking a longer break and putting all our equipment in a plastic box, we started to focus on one of our basic needs: food. That part was easy because I had a lot of food with me and the only thing I bought from the hut was tea, to warm up a bit. However, resting was unusual for me: we had to sleep in a dormitory together with 15 other people, in a bunk bed. When we entered the dormitory at 9 PM, the light was out and everybody was already asleep. We managed to find our stuff in the rucksack and also tried to sleep.
We had planned to reach the third hut, Refuge de Goûter, quite early in the morning, so we wanted to wake up at around 4 AM and leave the hut at 5 AM. However, there were so many things on my mind that I didn't manage to fall asleep right away. Without some relaxation and sleeping techniques I guess that I wouldn't have managed to fall asleep because of the volume of information that I had gotten that day. In the end, I fell asleep around 12:30 AM.
My resting time didn't last long, because at around 1:30–1:45 AM the whole room just came to life as all its inhabitants woke up and started preparing for the hike. I was happy because at least my body was fit again, even though my head was like a cage full of hungry monkeys. At that moment, it became clear to me that the decisive game would be played in my mind.
In these conditions, we stood up and said that we could also press the play button to our adventure. We ate something quickly, got equipped and Dado came to me with great news. He had heard that a small group was leaving soon and suggested to follow them because it was night and we had to cross a very dangerous area: "le grand couloir".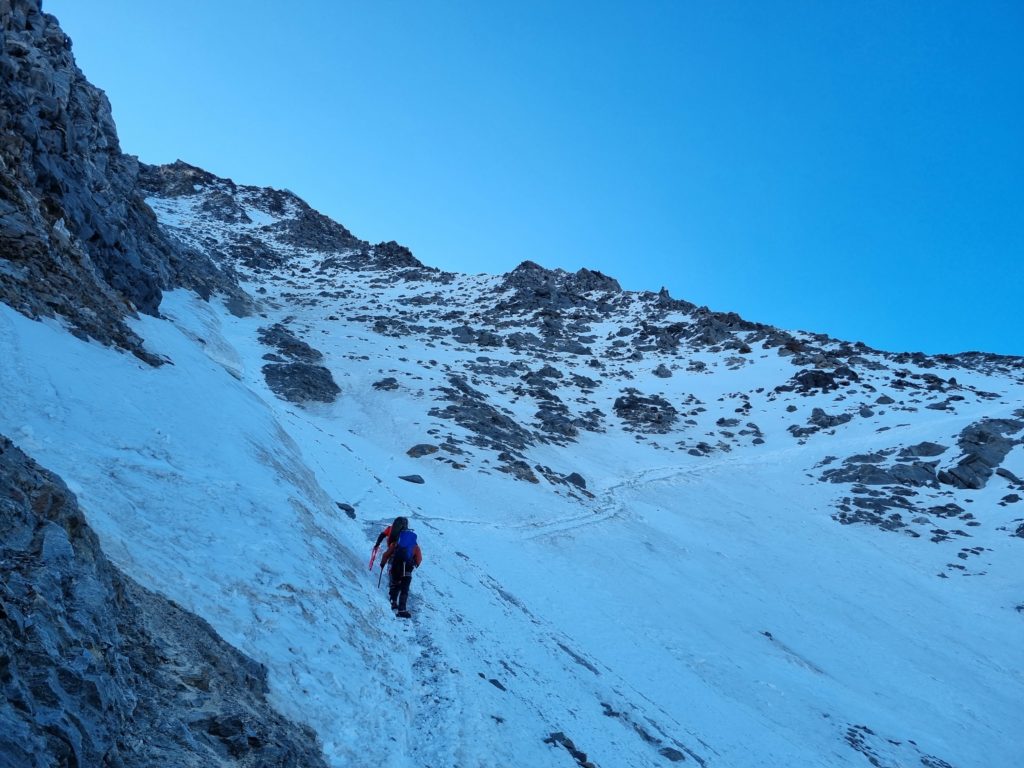 "Le grand couloir" is one of the most dangerous parts of this tour because rocks are constantly falling and the safest time to pass is before 8–9 AM. Afterwards, the sun melts the ice that holds the rocks together and a lot of them begin to fall. Just imagine rocks falling from a height of hundreds of meters, some the size of an orange and others the size of a backpack. I do not even want to consider what would happen if such a rock hit somebody!
At around 3 AM, after eating and drinking a small cup of coffee, we started our hike.
In the beginning we were much slower than we were used to, but Dado insisted to stay with the group that he had found. Eventually, this turned out to be a good idea, because we could focus more on climbing and only had to follow the group, with no risk of getting lost.
Imagine a dark and cold night, with only rocks, snow and ice around you, winds up to 75 km/h and a 700-meter difference in altitude to cover.
That was not what I had read before about his part. Everybody said it is a technical section requiring some climbing, but when you don't see that much and the wind is pushing you away from the wall, your approach totally changes.
I guess that on that section I asked myself many times: "Hey Cosmin, isn't your bed more comfortable and safer? What are you doing here? What is in your head?"
We had done many technical hikes before, but the 75-km/h wind changes everything. Just a few days before, Andrej, a very experienced friend, had warned us about the wind risk and told us that only a few days back someone had lost his life in similar conditions. Back then I didn't really understand the danger but now, after experiencing such tough conditions, I respect much more the power of nature.
After a few hours of hiking, at around 6 AM, the light finally appeared and with it a shiny star materialized in front of our eyes: Refuge de Goûter at 3835 m. It was the third and last hut before the summit.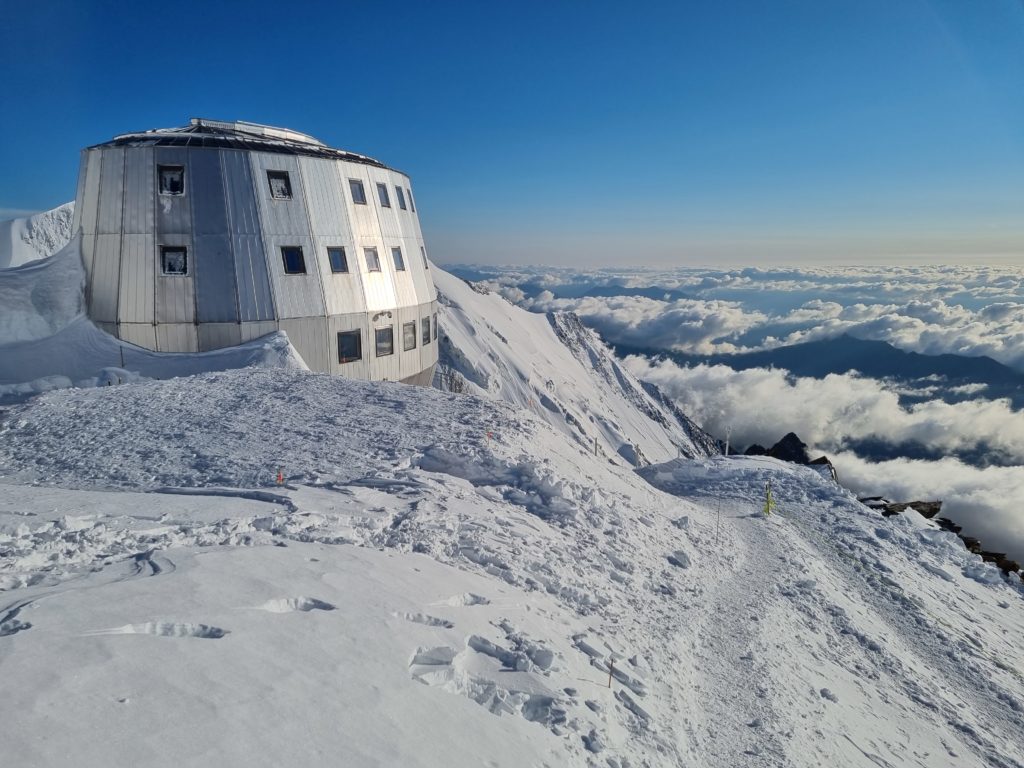 We went inside for a few minutes to get some warmth, take cover from the wind and decide how to approach the last part, the last 1000 meters. It seemed that food, warm tea and 30 minutes of rest did wonders because afterwards we started with fresh batteries!
In this energetic manner we started the last part of our ascent, the last 1000 meters to the summit. As soon as we got out of the hut, a strong wind started to blow and hit us almost like Thor's hammer. Even though we had never encountered such strong winds before in our lives, we decided to push forward and reach the summit!
After 30 minutes of fighting this invisible enemy, we gave up for the moment, and decided to return to the safety of the hut. Apparently, we were not the only ones that returned during that attempt, and this news made us feel a bit better. As the hours passed by, more hikers returned from the mountain complaining about the bad weather and especially about the 80-km/h winds. So that we could have it all, and see how unpredictable and wild nature can be, at around 3 PM a snowstorm with lots of lightnings started. All we could do was rest overnight and attempt the peak again on the next day.
My friend Dado was looking constantly on the internet for weather forecast, but since none of the websites had predicted such bad weather for the day before, we didn't know if any of them could still be considered reliable. We started to make some friends among the hikers and mountain guides who were staying at the hut and found out that most of them were going to attempt the summit the next day at around 4 AM.
We decided to join them too and went to sleep at around 9 PM, with the hope that the next day would be the one! On that second night, because I was so exhausted, I didn't need any sleeping techniques and fell asleep immediately.
Wrrrrrmm! Wrrrrrmm! The vibrating alarm from my watch woke me up but curiosity was actually the one that turned on all my senses.
Had the wind calmed down?
Would we be allowed to climb the mountain?
Well, the answer was no to both questions because after I removed the earplugs, I could still hear the wind blowing outside, this time way louder than the day before! A bit sad of the outcome, I decided not to wake up Dado and went back to sleep. It wasn't worth it to wake somebody for such bad news.
After a few hours, I opened my eyes and everywhere was bright. It was morning. I looked in the dormitory and noticed that almost all hikers that were sleeping there the night before were gone. Then I looked at Dado's bed and he wasn't there either!
Hmmm.
After a few seconds, Dado appeared from an upper bed and shouted happily: "Look! There are people on the mountain. It is possible to hike! Let's go! "
It was the fastest preparation in my life and I somehow combined all known efficiency techniques. In two minutes maximum I made the bed, went to the toilet, washed my teeth, ate some bars, changed from sleeping to winter clothes and packed the rucksack!
I noticed that we were the only ones left in the hut, because no one else was to be seen. While I was waiting for Dado, I had a few minutes to drink a coffee and chat a bit with Jonathan, one of the workers from the hut. He told me that everybody had already left at 4:30 AM and wished us good luck on our attempt! I was still very happy about the good news: in this enthusiastic way we equipped ourselves and at 7:40 AM we took a final photo before our big test.
As soon as we exited the hut, our loud companion made us aware that it was going to join us, but we decided to stick to the plan and started step by step our way to the summit.
On some places the wind had already covered the tracks that others had left a few hours before, so we had to make new ones. It was extremely cold and windy, and we had to push every step, but we knew that it was possible this time. Not to mention that we were extremely motivated and knew exactly why we were there: we came to hike Mont Blanc, not a small hill behind our house.
The last rescue hut before the summit (Refuge Vallot) appeared at a height of 4362 meters; we decided to enter and warm up a bit. Interestingly, the hut has no conventional door. The only way in is through the floor from a lower part, leading to some sort of a lobby. From there you find a "normal" door. After resting for 5 minutes, I tried to eat something, but the cereal bars were already frozen and impossible to bite. I moved my thoughts somewhere else and got rid of these hunger pangs thinking that I would have a more delicious meal at the hut. It seemed to work because, until much later, no similar thought came to disturb me again.
We got going again knowing that we had only 500 meters of altitude left. What is 500 meters when compared with what we had been going through so far. Besides, the sun was on our side and started to shine more strongly, making the wind somehow more bearable. Also the snow started to have a different glow. It was as if the whole mountain was cheering, supporting us in the final round.
On our way up, we encountered some other groups who had already reached the summit. They saluted us and we wished each other a safe trip, mentioning that we would see each other later, at the hut. What joy was painted on those people's faces. Actually I couldn't read their faces much because they were covered, but their eyes had a different spark somehow. That look provided extra motivation and was more empowering than any energy bar that I couldn't eat!
From this point on we took breaks more often because we started to feel the tiredness more strongly. However, on the inside we were in peace because we knew that it was only a matter of minutes until we reached the peak. Step by step! That was the only rule I used: focus only on the next step until you reach your goal. And it worked. After some time, we noticed that there was no more way up. It was the end! It was the peak. We were on top of the Alps. We were two snowflakes on a snowy mountain. Somehow, we didn't feel anymore the freezing −15 °C temperature and just enjoyed the moment. It was absolutely amazing. It felt as if every cell of my body turned on its light and woke up to celebrate this moment. It was a feeling of peace, joy, freedom, confidence and happiness, a feeling that was there all the time and had waited quietly the right moment to come out. We did it! We actually did it!
Our journey down was done quietly with a lot of consideration. For the mountain, for the nature, for the other hikers. After some time, we saw the Goûter hut, standing unchanged on the edge of the cliff. This time, I saw the hut with different eyes because now I realized how important the hut was and how it supported each hiker climbing Mont Blanc. It was a piece of everyone's life and, ultimately, a piece of us.
The next day we woke up at around 6 AM, packed quietly and started our journey down, in order to cross the couloir as early as possible. When we reached the couloir, we saw many rocks falling, but we got across safely and reached the Tête Rousse hut at around 8:30 AM. Unfortunately, for a girl who was there half an hour before us the crossing was different. She got hit by some rocks and she had to be rescued by helicopter.
We continued till Nid d'Aigle where we changed to summer clothes and decided to hike back on foot to enjoy this incredible mountain as long as possible. After we passed the Bellevue cable car station, we saw a small point far away, on the edge of the mountain. The Goûter Hut! It was incredibly far, but incredibly close in our hearts.
We reached safely the parking lot in Les Houches although I knew that on the next day I would feel my legs much much heavier.
In the end, we looked back for the last time.
What a mountain!
What a joy!
What an experience!
Thank you!